......................................................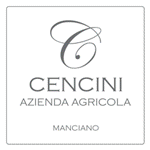 Share with your friends
THE FARM AND TERRITORY

_______________________________________________
The farm Agricultural Mark Cencini is situated in the place Marsiliana-Guinzoni Manciano (Gr), heart of the Maremma Toscana, inside the zone of production of the Red Doc Sovana and the Doc Bianco of Pitigliano.
A microcosm that gathers all the elements of this fascinating bucolic landscape: culture, history and nature, agriculture, architecture and art, kitchen and local traditions.
A respectful bond melts the new one and the ancient one.

Equally Mark brings forth the firm in the respect of the tradition with the passion for the wine, that has him in the blood, since child when he looked at the great ones work the vineyard and to bottle the nectar. The family Cencini produces wines from the end of the years '60, have individualized the optimal expression of the vocation vitivinicola of the Maremma, where in the innumerable reality dis this sector is rare to meet wine-dressers that with so much perseverance and passion they express something magic, that we find again in the tastes and in the wines perfumes produced in the firm Cencini.

Sacrifices that narrate the slow one to cultivate and the great enthusiasm of the days of vintage.

A growth directed by generations to produce wines of quality.

The wisdom, the experience, the country patience and the juvenile enthusiasm of Mark, to invest in new techniques: here are the factors that have allowed the farm Cencini to get some wines that exalt a patrimony eno-culturare handed down by generations.

His great passion

for the brings wine her to also take the diploma as sommelier and recently also from cantiniere, to manage to better his product.The small Agricultural Farm Cencini, to family management, it extends him on a surface of around 15ha, of which 4,5ha occupied from vineyards: Sangiovese, Cabernet-Sauvignon, Syrah, Merlots, Thresh, Malvasia;

and 1,5ha to olive-grove, from which you use her to get a good oil extravergine of olive with the same passion that they put for getting a good wine.

The vineyards and the olive-grove

are situated in it mediates hill to 150-200mt Slms, fertile and enchanting hills that offer him to the breeze sea and sunny of the Maremma that they enrich the grapes and the olives of a personality so much strong and elegant, wines and oil of quality, true essence of this earth, further sign badge of the wines and the oil Cencini. The Agricultural farm Cencini organizes visits near his wine cellar and tastings on booking.